Dumpster Rental Fort Worth
Welcome to Big Tex Dumpsters, the dumpster rental Fort Worth trusts for industrial, commercial, and residential waste and junk removal needs that are met with unparalleled service and convenience. Our dedication to efficiency, reliability, and customer care has earned us a reputation as the leading dumpster rental company in North Texas. Explore our dumpster options and discover how we can simplify your next clean-up or construction project here in Fort Worth, Texas.

At Big Tex Dumpsters, we believe in doing things the Texas way – providing dumpster rentals with a commitment to service, quality, and community that's as big and bold as the Lone Star State itself! From home renovations to large-scale construction work, we've got the dumpster rental Fort Worth knows is designed to handle whatever you throw in it. You can depend on us for a hassle-free and straightforward rental experience that won't disappoint.

Take control of your waste disposal today with our range of dumpster sizes and helpful staff. We're ready to assist you with top-notch service that's just a call or a click away. Don't let waste become a stressor in your life. Let our team help make this process simple and affordable. Browse our website or call us now to find the perfect dumpster rental for your needs. Experience the Big Tex way - the dumpster rental Fort Worth can trust.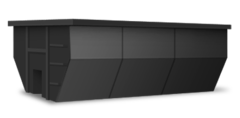 Dimensions
16'L x 7.5'W x 4.5'H
Included Tonnage
6000 Lbs included
Additional Days
:
$20/day
Extra Weight
:
$0.03 Per Pound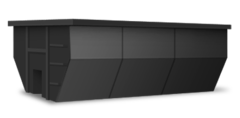 Dimensions
20'W, 22'L, 3.5'H
Included Tonnage
8000 Lbs included
Additional Days
:
$20/day
Extra Weight
:
$0.03 Per Pound
We Take Just About Everything
Some examples of the junk we haul away include:
Refrigerator Disposal

Garbage Removal

Mattress Disposal

Foreclosure Clean Outs
Construction Waste Removal

Yard Waste Removal

Trash Removal

Appliance Removal
Television Disposal & Recycling

Furniture Removal

E-Waste Disposal

Hot Tub Disposal
Why Choose Big Tex? Your Premier Choice for Fort Worth Dumpster Rental
Choosing the right Fort Worth dumpster rental is crucial to the success of your project. Big Tex Dumpsters stands as a premier choice in the region, offering services that go beyond mere waste disposal. We're not just a rental company; we're a partner that understands your unique needs and works diligently to meet them. Here's why Big Tex should be your first choice: Commitment to Customer Satisfaction: As a locally owned company, we have a deep understanding of the Fort Worth area, enabling us to tailor our services to the community's specific needs. Our commitment to excellence is reflected in our 5-star ratings, showcasing the trust and satisfaction our clients have in our services. We're not just a provider; we're a neighbor who cares about your success.

Quality Equipment for Every Project: Our range of well-maintained Fort Worth dumpster rental options is designed to cater to diverse needs, from construction sites to residential cleanups. With various sizes and specialized containers, we ensure you have the right tool for the job. Our reliable equipment means you can focus on your project, confident that your waste management is handled professionally.

Affordable and Transparent Pricing: We believe in offering quality service without breaking the bank. Our transparent pricing ensures you know exactly what you're paying for without hidden Fort Worth dumpster fees or surprises. With Big Tex Dumpsters, affordability doesn't mean compromising on quality. It means getting the best value for your investment with a partner who values your trust.

Our team is dedicated to supporting your projects with the utmost professionalism, reliability, and affordability. Our understanding of the Fort Worth area, coupled with our 5-star ratings, top-notch equipment, and honest pricing, sets us apart as the go-to choice for dumpster rentals in Fort Worth, TX. Whether you're a contractor, a business owner, or a homeowner, our tailored solutions are crafted to make waste disposal a seamless part of your journey. Choose Big Tex Dumpsters for your Fort Worth Dumpster Rental needs and experience the difference that commitment, quality, and integrity can make. Contact us today, and let's work together to make your project a resounding success!
Various Uses For Our Dumpster Rental in Fort Worth
In the vibrant city of Fort Worth, TX, where progress never pauses, our company plays a dynamic role in various projects with our options for a dumpster rental in Fort Worth. Efficient waste disposal is a vital part of various sectors, from commercial enterprises to construction projects and even individual homeowners undertaking residential improvements. Understanding the unique needs and requirements of these different areas is key to providing effective and easily accessible waste removal solutions. Big Tex Dumpsters is proud to offer a diverse range of dumpster rentals in Fort Worth designed to meet these specific needs. Whether you're a business owner, a contractor, or a homeowner, our tailored services are crafted to support your projects with professionalism, efficiency, and environmental responsibility. Below, we explore how our dumpster rentals cater to commercial, construction, and residential uses.

Commercial Uses: For businesses, waste disposal is a critical part of daily operations, and dumpster rentals provide a flexible solution. Retail stores, restaurants, office buildings, and more can all benefit from tailored dumpster services. Whether it's regular waste disposal, handling recyclable materials, or dealing with occasional bulk waste like old equipment or inventory clear-outs, commercial dumpster rentals make these tasks more manageable. Our selections for a dumpster rental in Fort Worth include a range of sizes and pickup schedules to match specific business needs, providing reliable and eco-friendly waste management that supports the smooth running of commercial enterprises.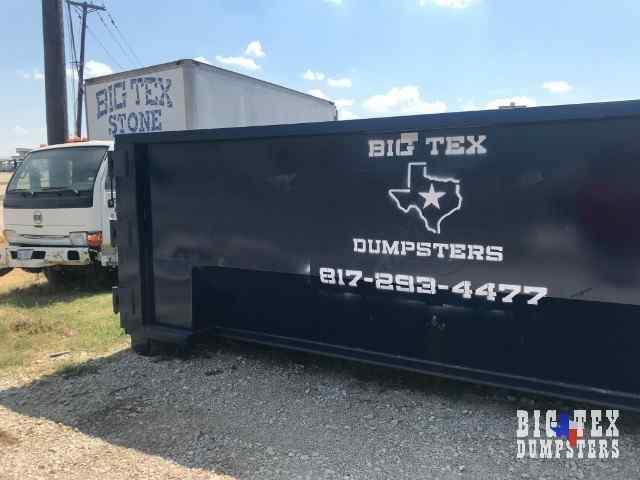 Construction Uses: In the construction industry, waste management is an intricate task that requires careful planning. From small renovations to large-scale building projects, construction sites generate a variety of waste materials, including concrete, wood, metal, and more. Dumpsters Fort Worth TX contractors can count on become an essential tool for construction professionals, allowing for efficient collection and disposal of construction debris. They help maintain a safe and organized work environment, reducing risks and improving efficiency on the job site. We provide specialized construction dumpsters that can handle the demands of various construction projects, ensuring compliance with regulations and contributing to more effective project execution.

Residential Uses: Homeowners often encounter waste removal challenges during various home improvement projects. Whether renovating a room, cleaning out a garage, or redesigning a garden, we have the residential dumpster Fort Worth TX knows offers a convenient way to handle the resulting waste. From old furniture to yard debris, dumpsters can accommodate various types of residential waste, making the cleanup process smoother. Big Tex Dumpsters offers customizable solutions that fit the unique needs and budgets of homeowners, making residential projects more accessible and enjoyable. With easy booking and prompt service, waste management becomes a hassle-free part of transforming a home, providing homeowners with a practical tool to enhance their living spaces.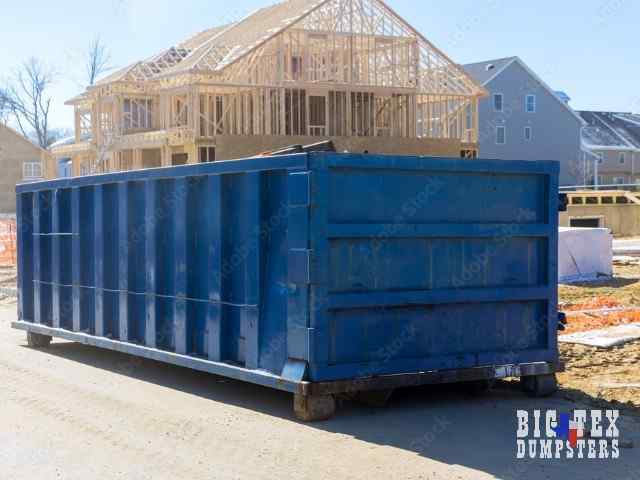 Rent a Dumpster Fort Worth Homeowners Can Rely On
In the neighborhoods of Fort Worth, TX, where families grow and homes evolve, Big Tex Dumpsters is the best place to rent a dumpster Fort Worth homeowners can rely on. For homeowners embarking on residential projects, whether it's a home renovation, garage cleanout, or yard makeover, managing waste can be a daunting task. That's where Big Tex Dumpsters step in to simplify the process. We offer a range of dumpster sizes tailored to fit the needs of various home projects, making it easy to dispose of common household waste, old furniture, construction debris, yard waste, and more. Our user-friendly rental process means you can select the perfect dumpster size for your project, and our prompt delivery and pickup ensure that waste removal fits seamlessly into your schedule. What's more, our transparent pricing means you know exactly what you're paying for without any hidden surprises. With our dumpsters near Fort Worth TX, homeowners can approach their residential projects with confidence, knowing that waste management is handled professionally, allowing them to concentrate on transforming their living space.
It's a hassle-free solution that turns what could be a complex task into a simple and satisfying part of your home improvement journey. Book a residential dumpster rental in Fort Worth today!
Dumpster Service Fort Worth Uses For Landscaping and Yard Waste Removal
In the thriving landscapes of Fort Worth, TX, we provide the dumpster service Fort Worth customers choose for yard maintenance and landscaping efforts of all varieties. Landscaping projects often produce a unique blend of yard waste, including grass clippings, branches, leaves, soil, and even old hardscape materials. At Big Tex Dumpsters, we offer a convenient and efficient solution for landscapers looking to handle this yard waste responsibly. Our specially designed small dumpster rental Fort Worth can depend on is perfect for collecting and transporting various types of green waste and debris. Whether you're a professional landscaper working on a commercial property or a homeowner tending to a backyard project, our bins provide a simple way to keep your workspace clean and organized. Our team understands the specific needs of landscaping projects, and we strive to provide timely delivery and pickup tailored to your schedule. With our affordable and eco-conscious options, yard waste removal becomes a hassle-free part of your landscaping project, allowing you to focus on creating beautiful outdoor spaces while we handle the waste.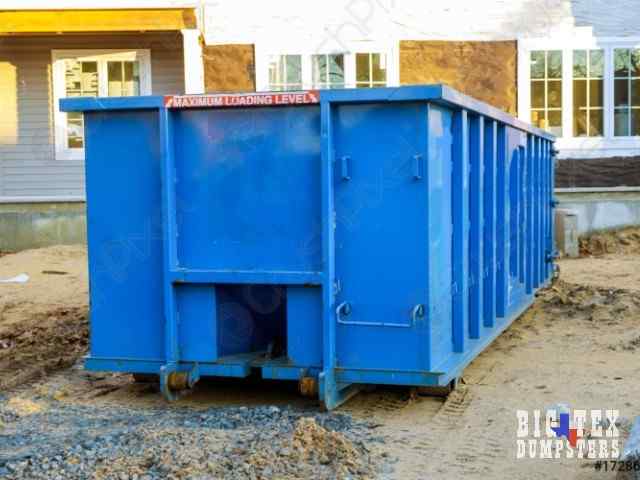 The Roll Off Dumpster Fort Worth Contractors Prefer For Construction Projects
In the demanding environment of construction projects, we've got the roll off dumpster Fort Worth uses for efficiency and reliability. For construction companies and contractors, time and efficiency are of the essence, and waste management can often become a complex task. We offer a streamlined solution that aligns perfectly with the needs of these professionals. Our dumpster rentals come in various sizes and are capable of handling a wide range of construction debris, such as concrete, wood, drywall, metal, insulation, and more. By providing on-site roll-off dumpsters, we help construction teams keep their sites organized and free from hazardous clutter. The easy disposal system means less downtime, allowing workers to focus on building rather than clearing the waste. Our prompt delivery and pickup services further enhance efficiency, keeping projects on schedule.

What sets Big Tex Dumpsters apart for construction companies and contractors is our commitment to personalized service and environmental responsibility, along with the best Dallas Fort Worth roll off dumpster rental in the area. We work closely with our clients to understand their specific needs and regulations, providing waste solutions that are both practical and compliant. Where possible, we also prioritize recycling, ensuring that materials are handled in an eco-friendly and sustainable manner. Our transparent pricing and reliable service take the guesswork out of waste management, turning what could be a challenge into a seamless aspect of the construction process. With Big Tex Dumpsters, contractors can operate with confidence, knowing that their waste needs are handled professionally and responsibly, contributing to smoother project execution.
Rent the Dumpster Fort Worth Uses For Roofing Jobs of All Sizes
We offer a specialized dumpster Fort Worth can rent for roofing projects of all sizes. Whether you're a contractor working on a large commercial building or a homeowner replacing a roof, our bins are designed to handle the specific types of waste that roofing jobs generate. This includes materials like asphalt shingles, tiles, metal roofing, underlayment, nails, and other debris that often result from roof removal and installation. We have a durable dumpster Fort Worth TX relies on in various sizes to match the scope of your roofing project, providing an efficient way to collect and dispose of these materials. With Big Tex Dumpsters, you can ensure a cleaner and safer work site as our team ensures proper handling and recycling wherever possible. Our commitment to tailored service makes us the preferred choice for roofing professionals and homeowners alike, streamlining waste disposal so you can focus on the job at hand.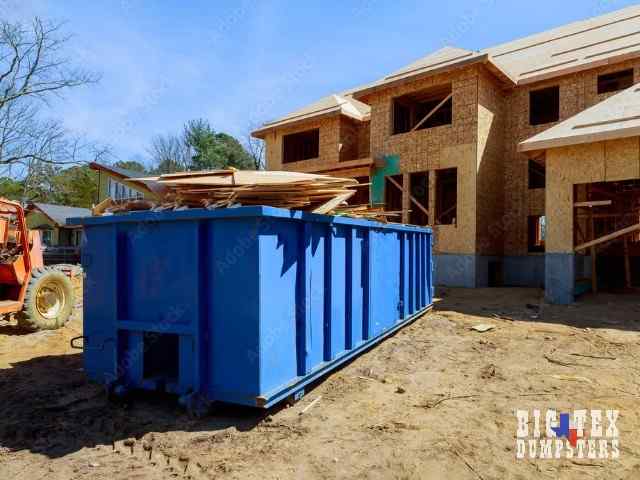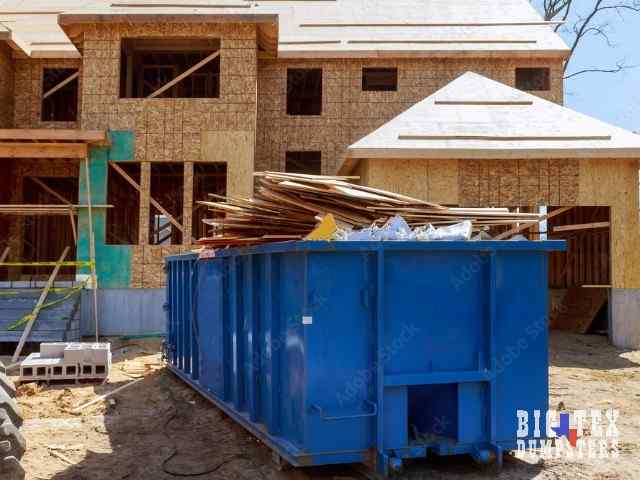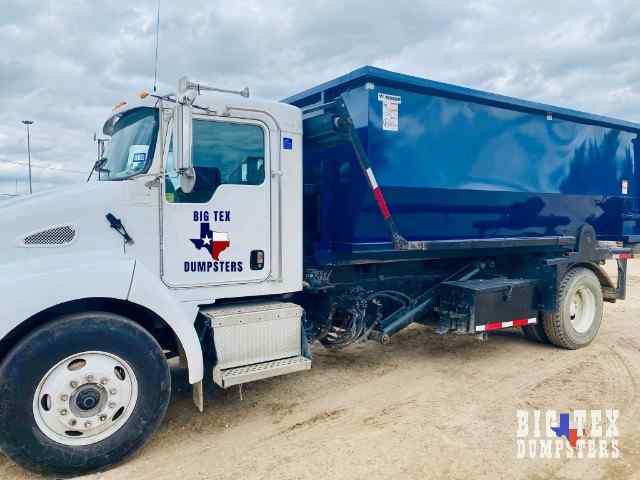 Commercial Dumpster Rental Fort Worth Prices that Businesses Appreciate
Commercial projects require efficiency and cost-effective dumpster rental Fort Worth prices. At Big Tex Dumpsters, our commercial clients come from diverse industries, and we cater to various project types, including:


Construction Companies: Our spacious dumpsters are perfect for construction sites where waste materials like concrete, wood, and metal accumulate. We help keep the site organized and safe by streamlining the waste removal process with a construction dumpster rental Fort Worth TX contractors and companies can depend on.
Retail Businesses: For retail stores undergoing renovations or seasonal clear-outs, our dumpsters provide an efficient way to dispose of old fixtures, packaging, and inventory.
Restaurants and Food Establishments: From regular waste to old kitchen equipment, our rentals offer a tailored solution for waste disposal, supporting daily operations or major revamps.
Office Buildings: Whether it's a small office decluttering or a large-scale relocation, our dumpsters can handle everything from outdated office furniture to electronic waste.
Event Organizers: Hosting a large event or festival? Big Tex Dumpsters can provide the waste management support you need, ensuring a smooth operation and easy cleanup.
Landscaping Companies: Our dumpsters are ideal for yard waste removal, including branches, sod, and soil, allowing landscapers to focus on creating beautiful outdoor spaces.
Manufacturing Facilities: In manufacturing environments where waste materials like metal scraps, plastics, or cardboard are generated, our specialized dumpsters ensure that waste is handled efficiently and complies with local regulations.
By providing versatile sizes and personalized service, Big Tex Dumpsters has become a trusted partner for commercial clients across these industries and more. Our focus on understanding and meeting specific project needs ensures your business can operate smoothly, sustainably, and successfully with the right waste disposal support and dumpster rental Fort Worth prices from Big Tex.
How to Reserve Our Fort Worth Dumpster Online
We understand that convenience is key, especially when it comes to booking a Fort Worth dumpster for your upcoming waste removal projects. We offer two methods for getting on our books: Give us a call at (817) 293-4477 or use our online booking platform to browse our available options and book with ease. To book online, follow the steps below:

1) Select Your Dumpster: We offer various sizes to match your specific waste removal needs. Each option comes with detailed descriptions and guidelines to help you choose the right one for your project.
2) Pick Your Rental Duration: Our flexible rental periods mean you can select exactly how long you'll need the dumpster. Whether it's for a short weekend project or a month-long renovation, Big Tex has you covered.
3) Provide Delivery Details: Enter your specific location for delivery. This ensures that our professional drivers can deliver your chosen dumpster right where you need it. We make it so seamless and convenient that you don't even need to be present for the delivery, as long as we have all of the necessary information to drop off the bin.
4) Review Your Order: Check all details, including the size, rental duration, delivery address, and any additional services, to ensure they align with your project needs.
5) Secure Checkout: With our safe and transparent pricing system, complete your booking by entering your payment information using any major credit card. Rest assured, there are no hidden fees or unexpected charges.
6) Receive Your Confirmation: You'll get an email from us with all the details of your rental, including a direct line to our customer service in case you have any questions or need assistance.
7) Enjoy Prompt Delivery: Our team will deliver your Fort Worth dumpster at the scheduled time, and we're always here for support throughout your rental period. Need Help? Contact Us: Our customer service is available to assist you with any inquiries or special requirements. We're committed to making your rental experience with Big Tex as smooth as possible.

At Big Tex Dumpsters, we've designed our online booking system specifically to provide a stress-free experience that's tailored to our customers. It's why we're a community favorite and why we continue to strive for excellence in everything we do. Book your Fort Worth dumpster with Big Tex today and discover the difference we can make in your next project!


Convenient Fort Worth Roll Off Dumpster Rental Sizes and Prices
We understand that one size doesn't fit all when it comes to Fort Worth roll off dumpster rental options, which is why we offer a versatile range of sizes and prices to fit any project or budget. Whether you're tackling a small home cleanout or managing a large construction site, we have the perfect dumpster for you. Our friendly team is always on hand to help you choose the right size, ensuring you have enough space without overpaying for what you don't need. And with our transparent pricing, you'll know exactly what you're paying for, with no hidden fees. It's all part of our commitment to making waste disposal via dumpster rentals easy and affordable. At Big Tex Dumpsters, we're here to provide solutions tailored to you, so you can get the job done without breaking the bank.

Big Tex Trailer: Our dumpster trailer is an optimal solution for smaller undertakings. Available for a single-day rental at a competitive price of $200, our trailer offers flexibility for those brief but vital tasks. Whether it's a quick garage cleanout or a one-day, large-scale event that will need heavy-duty waste removal, this trailer serves as a dependable partner without straining the budget. We understand lots of folks are on the hunt for a cheap dumpster rental Fort Worth can depend on, and this is a fantastic option for quick and budget-friendly projects!

15-Yard Dumpster: For those needing more substantial support for home renovations, single-room remodels, or commercial projects, our 15-yard dumpster becomes an essential tool. With a base price of $350 for up to three days, this size is designed to strike the perfect balance between capacity and cost. It's ready to accommodate the transformation and growth that come with mid-sized projects, including roofing repairs, landscaping efforts, and kitchen remodeling jobs.

20-Yard Dumpster: Our largest dumpster option is an expansive solution tailored for more extensive undertakings. Despite its generous size, it's priced affordably at $400 for the first three days. Whether for commercial construction or large-scale cleanouts, it ensures smooth workflow and efficiency.

We don't just offer a reliable, reasonably-priced Fort Worth roll off dumpster rental; we offer tailored solutions created to best suit your specific needs. Our varied selection of dumpsters, each with its own unique attributes, is designed to align with the financial needs and project goals of our clients in Tarrant County. We're not just a service provider; we're a partner in your project's success, ensuring that waste disposal is handled with precision, professionalism, and a personalized touch.


Roll Off Dumpster Rental Fort Worth: The Ease of Using a Dumpster for Your Heavy-Duty Waste Disposal
Renting a roll off dumpster rental Fort Worth depends on is beneficial for a range of projects, big and small. Our dumpster rental service is tailored to your needs, from small home cleanouts to large construction projects, ensuring the perfect fit at the best rate. First-time customers often wonder what the benefits are to booking a roll-off dumpster. There are countless reasons to invest in the roll off dumpster rental Fort Worth and surrounding areas use to conveniently and effectively clear waste, including wear and tear on your vehicle, landfill fees, and the hassle of handling heavy-duty waste.

At Big Tex Dumpsters, we know that dealing with waste can be a major hassle, especially when you're trying to do it all on your own. Loading and hauling away waste takes time, energy, and the right equipment, not to mention the risks and regulations involved. That's where we come in! Renting a roll off dumpster rental Fort Worth depends on from us makes everything easier and safer. We deliver the dumpster right to your door, and you fill it at your pace. Once you're done, we take care of the hauling and proper disposal. There's no need to worry about vehicle rentals, weight restrictions, or multiple trips to the landfill. With our committed crew on your side, you save time and effort, and you can focus on what's really important – your project. Let us take care of the waste so you don't have to!

We're all about convenience and customer satisfaction. We know that each project is unique, and that's why we offer various dumpster sizes to fit your specific needs. Our experienced team is always ready to help you choose the right option, guiding you through the rental process with ease. With our prompt delivery and pickup services, you never have to wait or worry. And our transparent pricing means no hidden fees or surprises. When you choose our team of experts, you're choosing a hassle-free experience that lets you focus on your project without the burden of waste management. It's a smart choice that saves you time, money, and stress, and it's why our customers keep coming back. Try us out and experience the Big Tex difference for yourself!
Delivering the Dumpster Rental Fort Worth Texas Can Count On
Our community is deeply important to us, and it's our mission to help keep local businesses, clubs, organizations, commercial spaces, and even the Fort Worth Independent School District waste-free and functional with the dumpster service Fort Worth Texas relies on. Fort Worth is a vibrant and historically rich town with so much to offer its residents and visitors alike, including Sundance Square, Trinity Park, and the Water Gardens. Whether you're spending the evening at the Fort Worth Stockyards, touring the Kimbell Art Museum, or enjoying the sights at the Amon Carter Museum, we're proud to play a vital role in keeping our city clean and enjoyable.

Our community is at the heart of everything we do. We believe in giving back and being an active and positive force in the neighborhoods we serve. Our involvement extends beyond just providing dumpster rentals; we engage with local events, support charities, and foster relationships with community members. We partner directly with Fort Worth C and D Landfill to ensure all waste is disposed of properly in accordance with local regulations. We understand that our success is linked to the well-being of the community, so we strive to make a difference where we can by offering the top-rated dumpster rental Fort Worth Texas customers can count on. Our dedication to being community-centric is not just a business strategy; it's a core value that defines who we are and how we operate. Come be a part of the Big Tex family, where community and building long-lasting partnerships always comes first!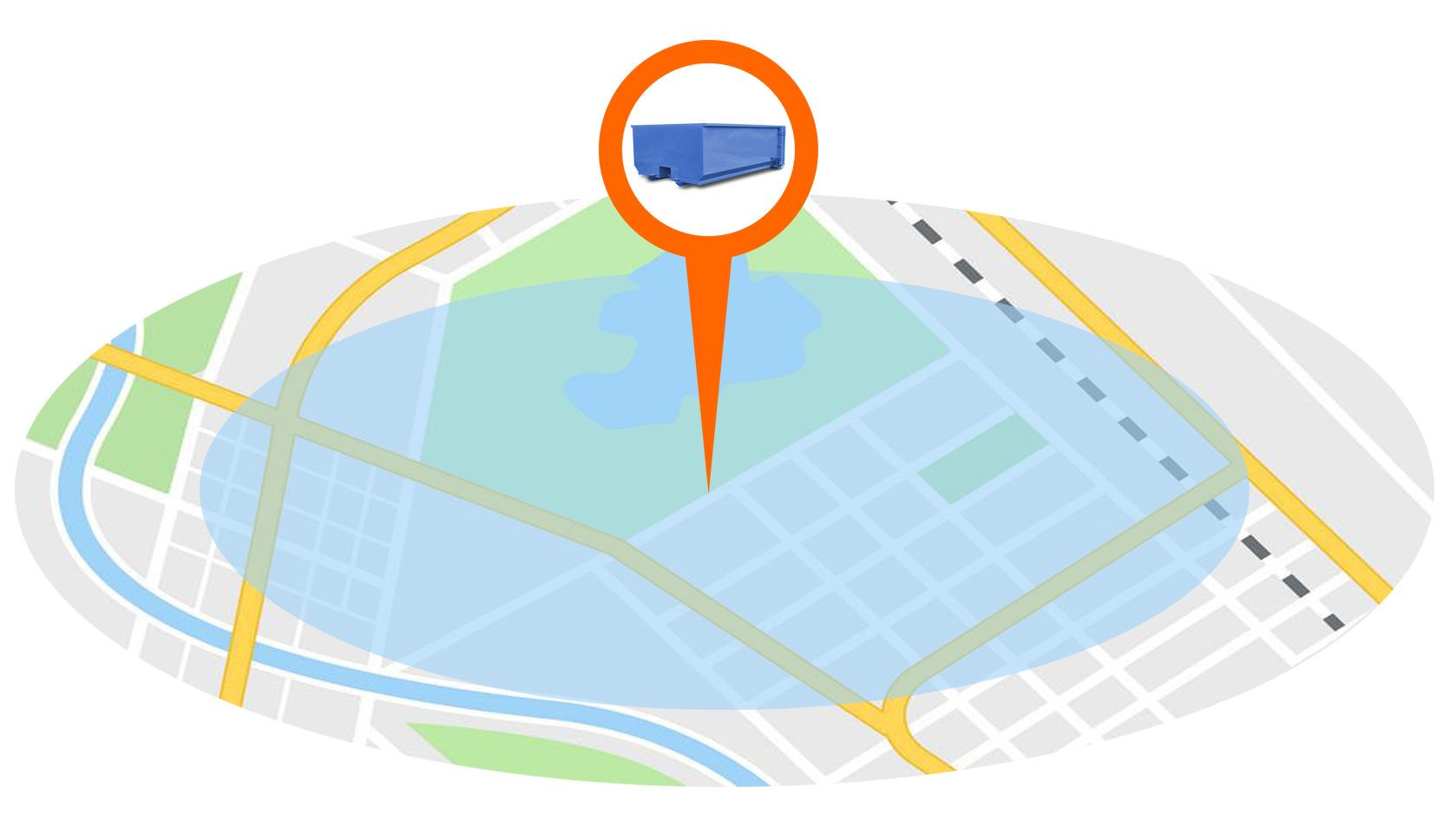 Big Tex Dumpsters is committed to offering a comprehensive dumpster rental Fort Worth Texas and the surrounding areas of Tarrant County can count on. Our service extends to a broad range of zip codes, including 76101, 76102, 76103, 76104, 76105, 76106, 76107, 76108, 76109, 76110, 76111, 76112, 76113, 76114, 76115, 76116, 76117, 76118, 76119, 76120, 76121, 76122, 76123, 76124, 76126, 76127, 76129, 76130, 76131, 76132, 76133, 76134, 76135, 76136, 76137, 76140, 76147, 76148, 76150, 76155, 76161, 76162, 76163, 76164, 76166, 76177, 76179, 76181, 76185, 76191, 76192, 76193, 76194, 76195, 76196, 76197, 76198, and 76199. We're happy to deliver to the surrounding areas of Burleson, Benbrook, Haltom, Forest Hill, Aledo, Arlington, Bedford, Cleburne, Crowley, Dallas, Decatur, Jacksboro, Allen, Alvarado, Argyle, Briar Oaks, Bridgeport, Carrolton, Cedar Hill, Dalworthington Garden, Desoto, Denton, Duncanville, Eagle Mountain Lake, Everman, Eulesses, Fairview, Farmers Branch, Flower Mound, Garland, Godley, Gradford, Granbury, Grand Prairie, Haslet, Hillsboro, Hurst, Irving, Justin, Joshua, Keller, Kennedale, Lake Worth, Lewisville, Lindsey, Mansfield, Mckinney, Mesquite, Midlothian, Mineral Wells, North Richland Hills, Plano, Rainbow, River Oaks, Roanoak, Saginaw, Samson Park, Springton, University Park, Watauga, Weatherford, West Lake, West Over Hills, W Worth Village, White Settlement, and Jacksboro. If you don't see your zip code or city listed, give us a call to find out more about our delivery area.
View Service Area
FAQs About the Dumpster Rental Fort Worth TX Uses for All Projects
Browse our frequently asked questions to learn more about the dumpster rental Fort Worth TX uses to dispose of waste quickly and efficiently! If you have any additional questions or need more information before getting started, reach out to our team, and we'll get you on our books in no time!
Q.
What dumpster sizes do you offer?
A.
We offer various sizes to suit different residential and commercial needs, including a dumpster trailer, a 15-yard dumpster, and a 20-yard dumpster. Our team can assist you in selecting the right size for your project, so just give us a call at (817) 293-4477 or check out our "Dumpster Rental" page for more details about the sizes for a DFW roll off dumpster rental Fort Worth TX depends on!
Q.
How long can I rent a dumpster for?
A.
However long you need! We offer flexible scheduling options for the dumpster rental Fort Worth TX uses to complete a wide range of waste removal projects, whether you need our trailer for a single day or our 15-yard roll-off for a month. Let us know how long you'll need the bin when booking online, or give us a call, and we can calculate a custom quote for your specific needs.
Q.
How do I book a dumpster rental online?
A.
Our straightforward online dumpster rental system allows you to pick your dumpster's size, rental duration, and delivery specifics with ease. If you need help during the reservation process, our staff is here to answer your questions and help you along the way when you rent a dumpster in Fort Worth from our team.
Q.
How do you ensure responsible waste disposal?
A.
We're committed to eco-friendly practices and follow all local and federal regulations for waste removal. Our options for a dumpster rental in Dallas-Fort Worth are designed to handle various waste materials, and we ensure that disposal is conducted in an environmentally responsible manner.
Q.
How much does it cost to rent a dumpster in Fort Worth?
A.
If you're looking for the most competitive cost of roll-off dumpster Fort Worth depends on, you're in the right place! We offer the most competitive price of dumpster collection Fort Worth has to offer, with prices beginning at $200 for a single-day rental.